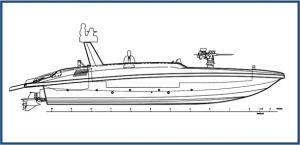 IBC understands that the full spectrum of Naval Special Warfare missions include special reconnaissance, direct action, unconventional warfare, combating terrorism, foreign internal defense, information warfare, security assistance, counter-drug operations, personnel recovery, and hydrographic reconnaissance. Our 40-Foot Twin-V solution enables Special Operations Forces (SOF) to operate worldwide and in all environments; and to ensure their clandestine missions also succeed in the face of ever increasing threat environments.
The Night Cat 40 introduces an innovative approach to reduce the shock forces experienced by (SOF) and provides a fully capable vessel to defend the United States, its interests, and to synchronize planning of global operations against terrorist networks. This new platform reduces the fatigue and physical damage crewman and combat forces suffer that ultimately severely impact their ability to conduct missions. Maintaining a highly maneuverable and stable craft, we incorporate signature reduction and the ability to be reconfigurable on short notice to accomplish any mission related to the SOF core tasks.
---
Craft Characteristics
Length: 42′ 8″
Width: 11′ beam
Draft: 3′ 3″
Profile: Low detectability
Weight: 16,000 lbs.
Crew Capacity: 4
Passenger Capacity: 2
Max. Speed: 65 knots
Max. Range: 350 n.m.
Fuel Tank Capacity: 400 gallons
Seakeeping: Stable because of tunnel with monorail-style tracking for underway ship takedown.
Drive: Perpendicular to water and has variable trim angle for better control in rough seas conditions.
Construction: Fiberglass
Maneuverability: Near-instantaneous throttle response